О РАСПРОСТРАНЕНИИ ЭХИНОКОККОЗА В РЕСПУБЛИКЕ КАЗАХСТАН
Ключевые слова:
эхинококкоз, показатель заболеваемости, мелкий рогатый скот, цестода, паразиты, гельминтоз
Аннотация
Эхинококкоз – зоонозный гельминтоз человека и животных, вызываемый ленточными червями Echinococcus granulosus. Лечение эхинококкоза часто бывает дорогим и сложным и может требовать обширных хирургических вмешательств или длительной лекарственной терапии. Кроме того, ежегодно эхинококкоз наносит серьезный ущерб животноводству.  На каждый конкретный момент времени в мире эхинококкозом поражено более 1 миллиона человек. Казахстан входит в число стран неблагополучных по эхинококкозу. Целью данного исследования является установить зараженность овец цистным эхинококкозом на территории наиболее эндемичных областей на юге и западе страны. Кроме того, проанализировать статистические данные по заболеваемости людей ларвальным эхинококкозом в Республике Казахстан за 2020-2021гг. для оценки актуальной ситуации по эхинококкозу в стране. Ситуация по эхинококкозу в настоящее время остается сложной. Эхинококкоз встречается во всех областях республики, однако наиболее эндемичным регионом является юг Казахстана, который является крупным животноводческим центром. Наиболее высокие показатели зараженности овец выявлены в Западно-Казахстанской и Алматинской областях – 16.7% и 12.52%.  По заболеваемости людей в республике за полтора года выявлено 557 случаев ларвального эхинококкоза. Самые высокие показатели наблюдаются в Туркестанской, Жамбылской, Алматинской областях и в г.Шымкент. Реже всего эхинококкоз встречается в Павлодарской, Костанайской областях и в г.Нур-Султан. Существующая система учета больных эхинококкозом и статистические данные не вполне отражают реальное число людей, зараженных эхинококкозом, поскольку учитываются только хирургические случаи. Мониторинг за природными очагами эхинококкоза необходим, особенно на юге, для принятия скоординированных мер по борьбе с болезнями.
Библиографические ссылки
Abdybekova, A., Sultanov, A., Karatayev, B., Zhumabayeva, A., Shapiyeva, Z., Yeshmuratov, T., ... & Torgerson, P. R. (2015). Epidemiology of echinococcosis in Kazakhstan: an update. Journal of helminthology, 89(6), 647-650.
Alvarez Rojas CA, Romig T, Lightowlers MW (2014) Echinococcus granulosus sensu lato genotypes infecting humans–review of current knowledge. International Journal for Parasitology 44: 9–18.
Agudelo Higuita NI, Brunetti E, McCloskey C (2016). Cystic echinococcosis. J Clin Microbiol 54: 518–523.
Budke CM, Carabin H, Ndimubanzi PC, Nguyen H, Rainwater E, Dickey M, Bhattarai R, Zeziulin O, Qian MB. (2013). A systematic review of the literature on cystic echinococcosis frequency worldwide and its associated clinical manifestations. Am J Trop Med Hyg 88:1011–1027.
Budke, C. M., Deplazes, P., & Torgerson, P. R. (2006). Global socioeconomic impact of cystic echinococcosis. Emerging infectious diseases, 12(2), 296.
Craig, P. S. Mc manus DP, Lightowlers MW, Chabalgoity JA, Garcia HH, Gavidia CM, et al. (2007). Prevention and control of cystic echinococcosis. Lancet Infect Dis, 7, 385-94.
Deplazes P et al. (2017). Global distribution of alveolar and cystic echinococcosis. Adv Parasitol 95: 315–493.
He, W., Wang, L. Y., Yu, W. J., Zhang, G. J., Zhong, B., Liao, S., ... & Wang, Q. (2021). Prevalence and spatial distribution patterns of human echinococcosis at the township level in Sichuan Province, China. Infectious Diseases of Poverty, 10(1), 1-13.
Kereyev, YA. M. (2010). Ekhinokokkoz zhivotnykh. Monografiya [Echinococcosis of animals. Monograph]. RGKP Zapadno-Kazakhstanskiy agrarno-tekhnicheskiy universitet imeni Zhangir khana.–Oral.
Konyaev, S. V., Yanagida, T., Nakao, M., Ingovatova, G. M., Shoykhet, Y. N., Bondarev, A. Y., ... & Ito, A. (2013). Genetic diversity of Echinococcus spp. in Russia. Parasitology, 140(13), 1637-1647.
Mustapayeva, A., Manciulli, T., Zholdybay, Z., Juskiewicz, K., Zhakenova, Z., Shapiyeva, Z., ... & Budke, C. M. (2020). Incidence Rates of Surgically Managed Cystic Echinococcosis in Kazakhstan, 2007–2016. The American Journal of Tropical Medicine and Hygiene, 102(1), 90-95.
Raimkylov KM, Kuttubaev OT, Toigombaeva VS (2015) Epidemiological analysis of the distribution of cystic and alveolar echinococcosis in Osh Oblast in the Kyrgyz Republic, 2000–2013. J Helminthol 89: 651–654.
Romig T, Deplazes P, Jenkins D, Giraudoux P, Massolo A, Craig P S, Wassermann M, Takahashi K, de la Rue M, (2017). Ecology and Life Cycle Patterns of Echinococcus Species. Vol 95. Elsevier
Romig T, Ebi D, Wassermann M (2015) Taxonomy and molecular epidemiology of Echinococcus granulosus sensu lato. Veterinary Parasitology 213: 76–84.
Shaikenov, B.S. (2006) Distribution and ecology of Echinococcus multilocularis in Central Asia. Parasitology International 55 (Suppl.), S213–S219.
Shaikenov, B. S., Torgerson, P. R., Usenbayev, A. E., Baitursynov, K. K., Rysmukhambetova, A. T., Abdybekova, A. M., & Karamendin, K. O. (2003). The changing epidemiology of echinococcosis in Kazakhstan due to transformation of farming practices. Acta Tropica, 85(2), 287-293.
Skryabin, K. I. (1928). Metod gel'mintologicheskikh vskrytiy pozvonochnykh, vklyuchaya cheloveka. M.: Izd-vo MGU, 1, 45.
Torgerson P. R. et al. Present situation of cystic echinococcosis in Central Asia //Parasitology International. – 2006. – Т. 55. – С. S207-S212.
Torgerson PR. (2013). The emergence of echinococcosis in central Asia. Parasitology 140: 1667–1673.
Zhang W, Zhang Z, Wu W, Shi B, Li J, Zhou X, Wen H, McManus DP. (2015). Epidemiology and control of echinococcosis in central Asia, with particular reference to the People's Republic of China. Acta Trop 141: 235–243.
Torgerson, P. R., Rosenheim, K., Tanner, I., Ziadinov, I., Grimm, F., Brunner, M., ... & Deplazes, P. (2009). Echinococcosis, toxocarosis and toxoplasmosis screening in a rural community in eastern Kazakhstan. Tropical Medicine & International Health, 14(3), 341-348.
Torgerson, P. R., Burtisurnov, K. K., Shaikenov, B. S., Rysmukhambetova, A. T., Abdybekova, A. M., & Ussenbayev, A. E. (2003). Modelling the transmission dynamics of Echinococcus granulosus in sheep and cattle in Kazakhstan. Veterinary Parasitology, 114(2), 143-153.
Valiyeva ZH. M. i dr. (2013) Ekhinokokkoz ovets na Yugo-Vostoke Kazakhstana: zarazhennost', raspredeleniye tsist po organam i patomorfologiya myshts [Echinococcosis of sheep in the South-East of Kazakhstan: infection, distribution of cysts by organs and pathomorphology of muscles]. ÍZDENÍSTER, № 2 Issledovaniya, nətizheler 2013 rezul'taty. – P. 48.
Wen, H., Vuitton, L., Tuxun, T., Li, J., Vuitton, D. A., Zhang, W., & McManus, D. P. (2019). Echinococcosis: advances in the 21st century. Clinical microbiology reviews, 32(2), e00075-18.
WHO. (2020). Information letter of WHO on echinococcosis. https://www.who.int/news-room/fact-sheets/detail/echinococcosis
Yanagida T, Mohammadzadeh T, Kamhawi S, Nakao M, Sadjjadi SM, Hijjawi N, et al. (2012) Genetic polymorphisms of Echinococcus granulosus sensu stricto in the Middle East. Parasitology International 61: 599–603.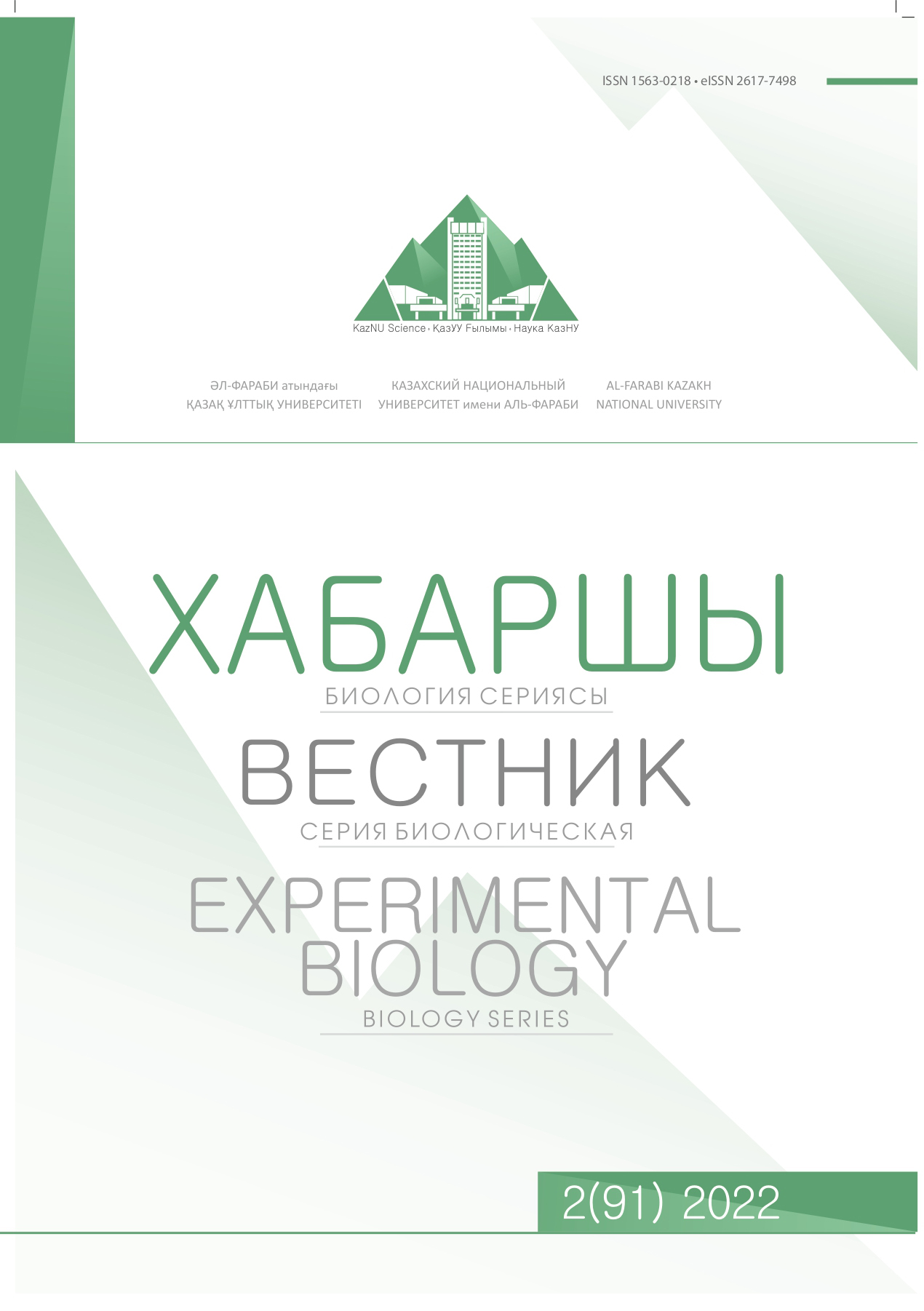 Загрузки