ОЦЕНКА ГЕНЕТИЧЕСКОЙ ОДНОРОДНОСТИ ЛИНИЙ САХАРНОЙ СВЕКЛЫ, ИСПОЛЬЗУЕМЫХ В КАЧЕСТВЕ КОМПОНЕНТОВ ГИБРИДОВ
Ключевые слова:
SSR-маркер, сахарная свекла, компоненты гибрида, генетическая однородность, ПЦР-анализ
Аннотация
В настоящее время селекция сахарной свёклы направлена в основном на создание высокопродуктивных гибридов на основе линейного исходного материала. Для получения гетерозисных гибридов важным этапом является создание константных (гомозиготных) исходных линий с высокой комбинационной способностью. Традиционно выровненные линии сахарной свёклы получают путём многократно повторяющегося отбора самоопылённых линий. Сложности селекции сахарной свеклы и поддержания генетической однородности обусловлены двухлетним циклом развития, инбредной депрессией и перекрестной несовместимостью. Для повышения эффективности создания и поддержания генетической однородности линий сахарной свеклы, используемых в качестве компонентов гибридов начаты работы по внедрению ДНК – маркеров в селекционный процесс сахарной свеклы ТОО «КазНИИЗиР». В качестве материала исследований были использованы 20 линий сахарной свеклы коллекции КазНИИЗиР. Целью исследований являлось изучение генетической однородности линейного материала сахарной свеклы различного происхождения и уровня плоидности с использованием SSR - маркеров. В работе были использованы 3 SSR маркера - Bvv 21, Bvv53, Bvv 155.
Библиографические ссылки
Abbasi Z., Arzani A., Majidi M.M. (2014) Evaluation of genetic diversity of sugar beet (Beta vulgaris L.) crossing parents using agro-morphological traits and molecular markers. J Agric Sci Technol., vol. 146, pp. 1397-1411.
Abekova A.M., KonysbekovK.T., Erzhebaeva R.S., Bastaubaeva Sh.O., Mukin K.B., Azimbek N.I.(2017) Izuchenie-polimorfizma u gibridov i linij sakharnoj svekly (Beta vulgaris) s pomoshchyu RAPD-prajmerov [Study of polymorphism in hybrids and lines of sugar beet (Beta vulgaris L.) using RAPD primers] Sakharnaya svekla, no.9, pp. 32-38.
Agarwal M., Shrivastava N., Padh H. (2008) Advances in molecular marker techniques and their applications in plant sciences. Plant Cell Rep., vol. 27, pp. 617-631.
Akpinar B.A., Lucas S., Budak H. (2017) A large-scale chromosome-specific SNP discovery Guideline. Funct Integr Genomics, vol.17, pp. 97-105.
Budak H., Shearman R.C., Gulsen O., Dweikat I. (2005) Understanding ploidy complex and geographic origin of the Buchloe dactyloides genome using cytoplasmic and nuclear marker systems. Theor Appl Genet., vol.111, pp.545-552.
Cooke R., Bredemeijer G., Ganal M., Peeters R., Isaac P., Rendell S., Jackson J., Röder M.S., Korzun V., Wendehake K., Areshchenkova T., Dijcks M., Laborie D., Bertrand L. & Vosman B. (2003) Assessment of the uniformity of wheat and tomato varieties at DNA microsatellite loci. Euphytica, vol.32, pp.331–341 Doi.org/10.1023/A:1025046919570.
Delaporta S.L., Wood J., Hicks J.B. (1983) A plant DNA minipreparation. Version II, Plant Molecular Biology Reporter, vol. 4, pp. 19-21.
Fedulova T.P., Fedorin D.N., Kozlovskaya V. F. (2015) DNK tekhnologii v selekci sakharnoj svekly (Beta vulgaris L) sovremennoe sostoyanie i perspektivy razvitiya [DNA technologies in the selection of sugar beet (Beta vulgaris L.): current state and prospects of development]. Sakharnaya svekly, no.10, pp. 11-14
Fenart S., Arnaud J.F., De Cauwer I., Cuguen J. (2008) Nuclear and cytoplasmic genetic diversity in weed beet and sugar beet accessions compared to wild relatives: New insights into the genetic relationships within the Beta vulgaris complex species. Theor Appl Genet., vol. 116, pp. 1063-1077.
Geidel H.,Weber W.E., Mechelke W., Haufe W. (2000) Selection for sugar yield in sugar beet, Beta vulgaris, using different selection indices. Plant Breed., no. 119, pp. 188-90.
Ghasemi A.R., Golparvar A.R., Isfahani M.N. (2014) Analysis of genetic diversity of sugar beet genotypes using random amplified polymorphic DNA marker. Genetika, vol.46, pp. 975-984.
He B., Geng R., Cheng L., Yang X., Ge H., Ren M. (2020) Genetic diversity and fingerprinting of 33 standard flue-cured tobacco varieties for use in distinctness, uniformity, and stability testing. BMC Plant Biol., vol.20, pp.378. Doi.org/10.1186/s12870-020-02596-w.
Izzatullayeva Y., Akparov Z., Babayeva S., Ojaghi J., Abbasov M. (2014) Efficiency of using RAPD and ISSR markers in evaluation of genetic diversity in sugar beet. Turkish Journal of Biology, vol.38, pp. 429-438.
Kracher D., Oros D., YaoW., Preims M., Rezic I., Haltrich D., et al. (2014) Fungal secretomes enhance sugar beet pulp hydrolysis. Biotechnol J., vol. 9, pp. 483-92.
Kwon Y.Sh., Lee J.M. , Yi G.B. , Yi S.I., Kim K.M., Soh E.H., Bae K.M., Park E.K., Song I.H., Kim B.D. (2005) Use of SSR Markers to Complement Tests of Distinctiveness, Uniformity, and Stability (DUS) of Pepper (Capsicum annuum L.) Varieties. Mol. Cells, vol. 19, No. 3, pp. 1-8.
Laurent V., Devaux P., Thiel T., Viard F., Mielordt S., Touzet P., et al. (2007) Comparative effectiveness of sugar beet microsatellite markers isolated from genomic libraries and GenBank ESTs to map the sugar beet genome. Theor Appl Genet., vol. 115, pp. 793-805.
Li J., Schulz B., Stich B. (2010) Population structure and genetic diversity in elite sugar beet germplasm investigated with SSR markers. Euphytica, vol. 175, pp. 35-42.
Maung T.A., Gustafson C.R. (2011) The economic feasibility of sugar beet biofuel production in central North Dakota. Biomass Bioenergy, vol. 35, pp.3737-47.
McGrath M., Derrico A., Yu Y. (1999) Genetic diversity in selected, historical US sugarbeet germplasm and Beta vulgaris ssp. Maritima. Theor Appl Genet., vol. 98, pp. 968-976.
McGrath M., Trebbi D., Fenwick A., Panella L., Schulz B., Laurent V., et al. (2007) An open-source first-generation molecular genetic map from a sugar beet × table beet cross and its extension to physical mapping . Crop Sci., vol. 47, pp. 27-44.
Mishchenko V.N., Logvinov V.A., Logvinov A.V., Karaeva N.V., Korsun R.N., Rajlyan R.N. (2016) Teoreticheskie I prakticheskie aspekty ispolzovaniya citoplazmaticheskoj muzhskoj sterilnosti sakharnoj svyokly [Theoretical and practical aspects of the use of cytoplasmic male sterility of sugar beet]. Sakharnaya svyokla, no.1, pp.16-19.
Mohammadian R., Moghaddam M., Rahimian H., Sadeghian S.Y. (2005) Effect of Early Season Drought Stress on Growth Characteristics of Sugar Beet Genotypes. Turk J Agric For., vol. 29, pp. 357-368.
Nagl N., Taški-Ajduković K., Popović A., Ćurčić Ž., Danojević D., Kovačev L. (2011) Estimation of genetic variation among related sugar beet genotypes by using RAPD. Genet Belgrade., vol. 43, pp. 575-582.
Nalbaldyan A. A., Khussejn A.S., FedulovaT.F., Cherepukhina I.V., Kryukova T.I., Rudenko T.S., Mikheeva N.P., Motseenko A.V. (2020) Differenciaciya sortoobrazcov sakharnoi svekly po SSR-markeram dlya sozdaniya perspektivnykh gibridov [Differentiation of sugar beet cultivars by SSR markers to create promising hybrids]. Rossijskaya selskokhozyajstvennaya nauka, no.4, pp. 18-21.
Oficialnyi sait korporativnoi statisticheskoi bazy dannykh prodovolstvennoi I selskokhozyaistvennoi organizacii FAO [Statistics of the food and agriculture organization of the United Nations FAO] http://www.fao.org/faostat/en/#data/QC/visualize
Olmos J.C., Hansen Zúñiga ME. (2012) Enzymatic depolymerization of sugar beet pulp, production and characterization of pectin and pectic-oligosaccharides as a potential source for functional carbohydrates. Chem Eng J., vol. 192, pp. 29-36.
Riek J., Calsyn E., Everaert I., Bockstaele E. V., De Loose M. (2001) AFLP based alternatives for the assessment of Distinctness, Uniformity and Stability of sugar beet varieties. Theoretical and Applied Genetics, vol. 103, pp. 1254-1265.
Rodriguez L.A., Toro M.E., Vazquez F., Correa-Daneri M.L., Gouiric S.C., Vallejo M.D. (2010) Bioethanol production from grape and sugar beet pomaces by solid-state fermentation. Int J Hydrogen Energy, no. 35, pp.5914-7.
Schneider K., Kulosa D., Rosleff-Soerensen T., Moehring S., Heine M., Durstewitz G., et al. (2007) Analysis of DNA polymorphisms in sugar beet (Beta vulgaris L.) and development of an SNP-based map of expressed genes. Theor Appl Genet., vol. 115, pp. 601-615.
Schondelmaier J., Steinrücken G., Jung G. (1996) Integration of AFLP Markers into a linkage map of sugar beet (Beta vulgaris L.). Plant Breed., vol.115, pp. 231-7.
Shilov A.I., Aniskina Yu V., Shalaeva T.A., Kolobova O.S., Velishaeva N.S., Mishchenko V.N., Loginov A.V. (2020) Sozdanie sovremennykh gibridov sakharnoj svekly s primeneniem mikrosatellitnogo analiza [Creation of modern sugar beet hybrids using microsatellite analysis]. Sakhar, no.8, pp. 27-31.
Simko I., Eujayl I., Hintum T.J.L. (2012) Empirical evaluation of DArT, SNP, and SSR marker-systems for genotyping, clustering, and assigning sugar beet hybrid varieties into population. Plant Sci., vol. 184, pp. 54-62.
Smulders M.J., Esselink G.D., Everaert I., De Riek J., (2010) Vosman B. Characterisation of sugar beet (Beta vulgaris L. ssp. vulgaris) varieties using microsatellite markers. BMC Genet., vol. 11, pp. 41-52.
Stevanato P., Broccanello C., Biscarini F., Del Corvo M., Sablok G., Panella L., et al. (2014) Highthroughput RAD-SNP genotyping for characterization of sugar beet genotypes. Plant Mol Biol Report., vol. 31, pp. 691-696.
Taški-Ajduković K., Nagl N., Ćurčić Ž , Miroslav Zorić M. (2017) Estimation of genetic diversity and relationship in sugar beet pollinators based on SSR markers. Electronic Journal of Biotechnology, vol.27, pp.1-7. Doi.org/10.1016/j.ejbt.2017.02.001.
Uphoff H., Wricke G. (1995) A genetic map of sugar beet (Beta vulgaris) based on RAPD markers. Plant Breed., vol. 114, pp. 355-357.
Vasilchenko E.N., Zhuzhzhalova T.P. (2010) Izmenchivost morfologicheskikh I biokhimicheskikh priznakov mezhvidovykh gibridov svekly [Variability of morphological and biochemical characteristics of interspecific beet hybrids]. Sakharnaya svekla, no.1, pp.18-21
Vasilchenko E.N., Zhuzhzhalova T.P., Kolesnikova E.O. (2020) Uuskorennoe poluchenie novykh gomozigotnykh linij sakharnoj svyokly (B. vulgaris L.) [Accelerated production of new homozygous sugar beet lines (B. vulgaris L.)]. Sakhar, no.2, pp.30-32.
Wang Y.P., Li H.Y., Shen Q., Zhang J.H., Wang P., Wu Y. (2013) Molecular markers associated with rice (Oryza sativa L.) traits in DUS testing. Jiangsu J Agric Sci, vol. 29, pp. 231–239.
You Q., Pan Y.B., Xu L.P., Gao S.W.,Wang Q.N., Su Y.C., et al. (2016) Genetic diversity analysis of sugarcane germplasm based on fluorescence-labeled simple sequence repeat markers and a capillary electrophoresis-based genotyping platform. Sugar Tech., vol. 18, pp. 380-90.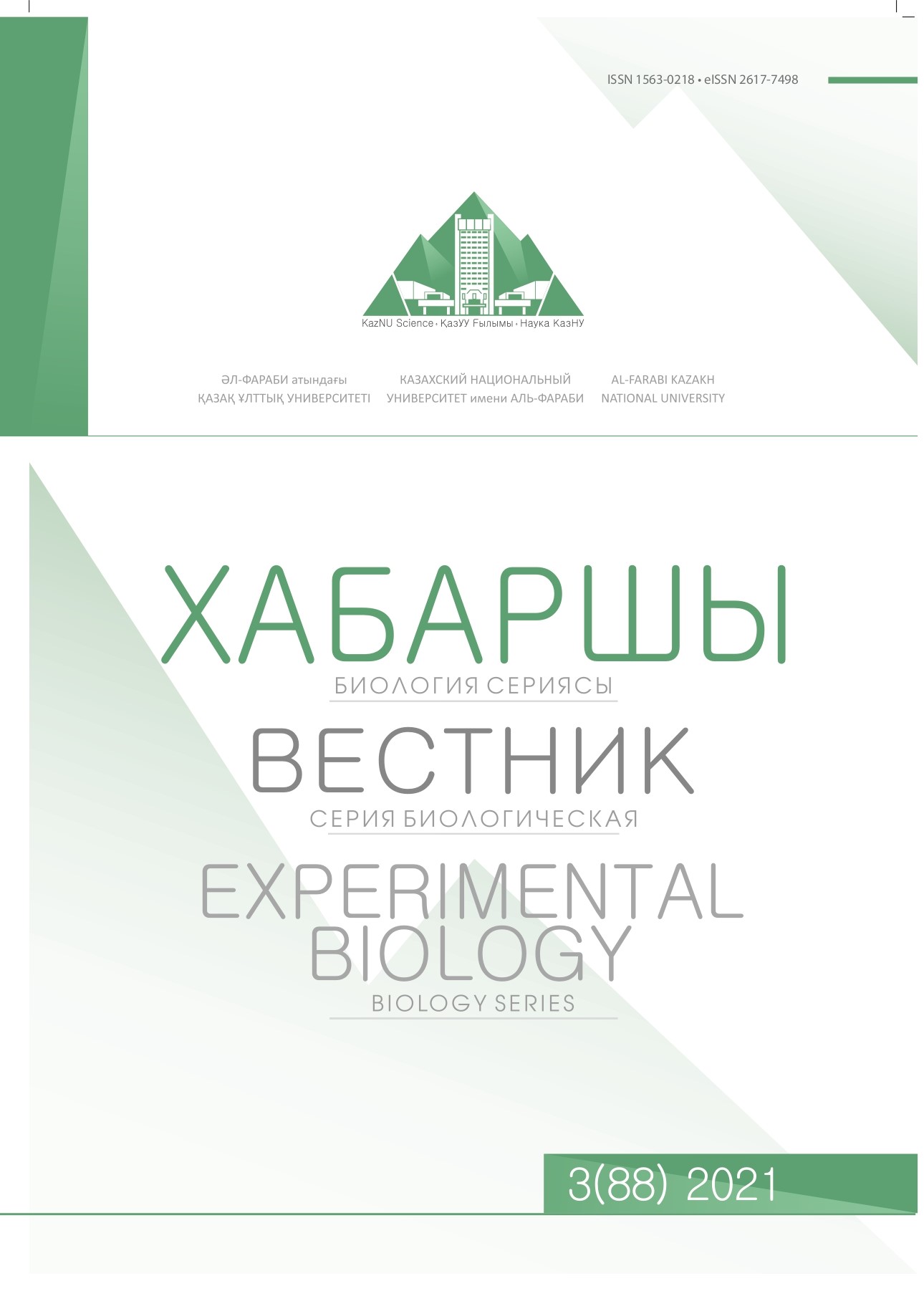 Загрузки
Раздел
МОЛЕКУЛЯРНАЯ БИОЛОГИЯ И ГЕНЕТИКА